Animal cross stitch patterns
Koi fish cross stitch pattern PDF, Water Lily wreath embroidery ornament #0130
$6.00
Koi carps are considered a symbol of wealth and prosperity. This cross stitch ornament will be a wonderful talisman for your home. Download the PDF for a meditative crafting journey and add a touch of nature to your embroidery projects.
❗ Welcome to our catalog-style website! To purchase a pattern, simply click the buttons below to visit Smasterilli's stores on popular marketplaces. Choose your preferred payment method and enjoy instant pattern download!
Buy on BuyMeaCofee
Description
Digital PDF Cross Stitch Pattern for instant Download
Immerse yourself in the art of cross stitch with our PDF pattern, showcasing a tranquil scene of Koi carps in a small pond surrounded by a wreath of water lilies. Elevate your needlepoint skills and bring the beauty of nature into your craft. Download now for a relaxing and rewarding stitching adventure.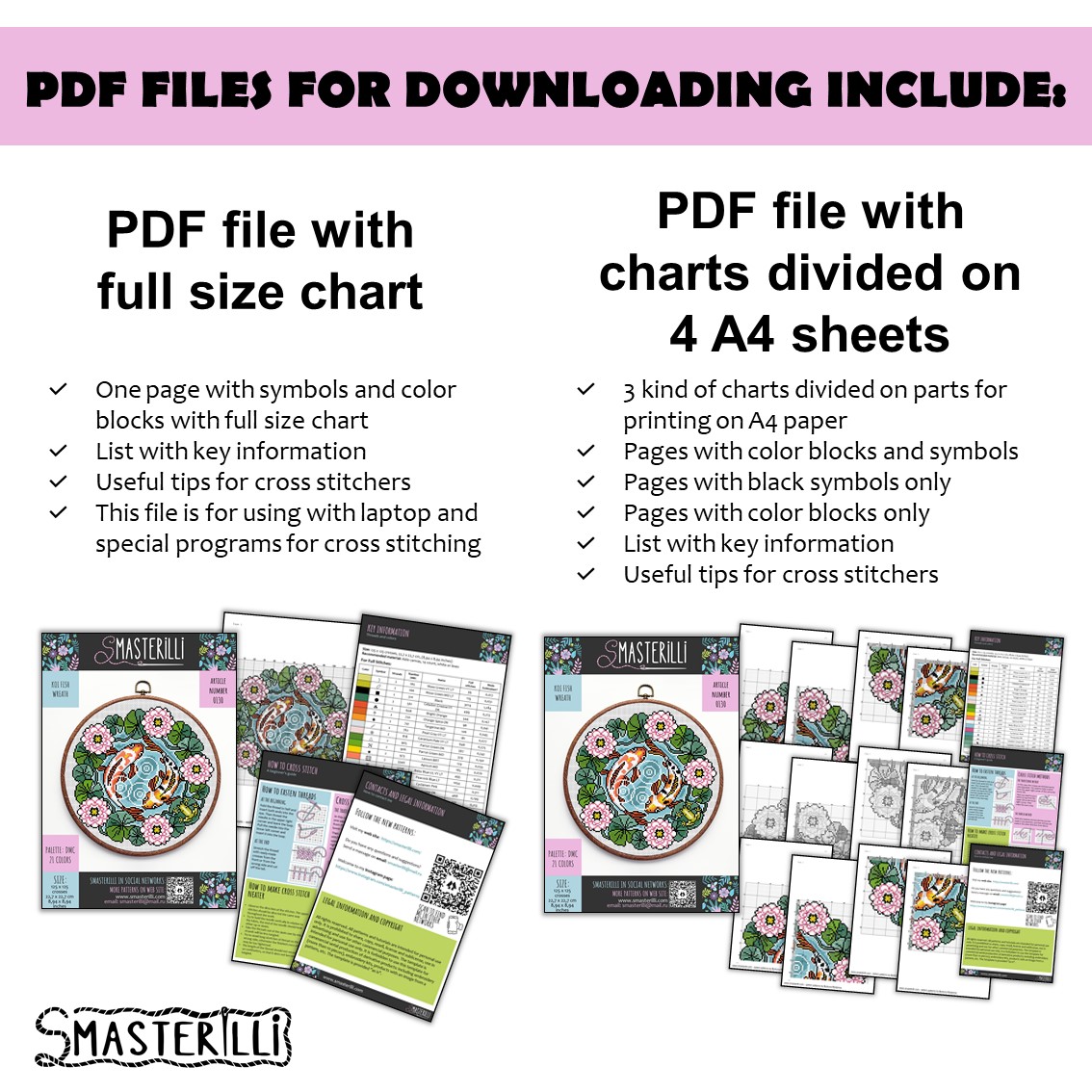 Files for Downloading Includes:
1 PDF file with cross stitch patterns for printing on A4 paper. PDF contains 3 variations of charts: chart with color and symbol blocks, chart with symbols only, chart with color blocks only. It can be printed on A4 paper. Also PDF file contains useful information about colors, the number of stitches, and the number of skeins of thread in each color
1 PDF file with full size chart with symbols and color blocks for using with laptop programs for cross stitching
3 charts in JPG format in three variations: chart with color and symbol blocks, chart with symbols only, chart with color blocks only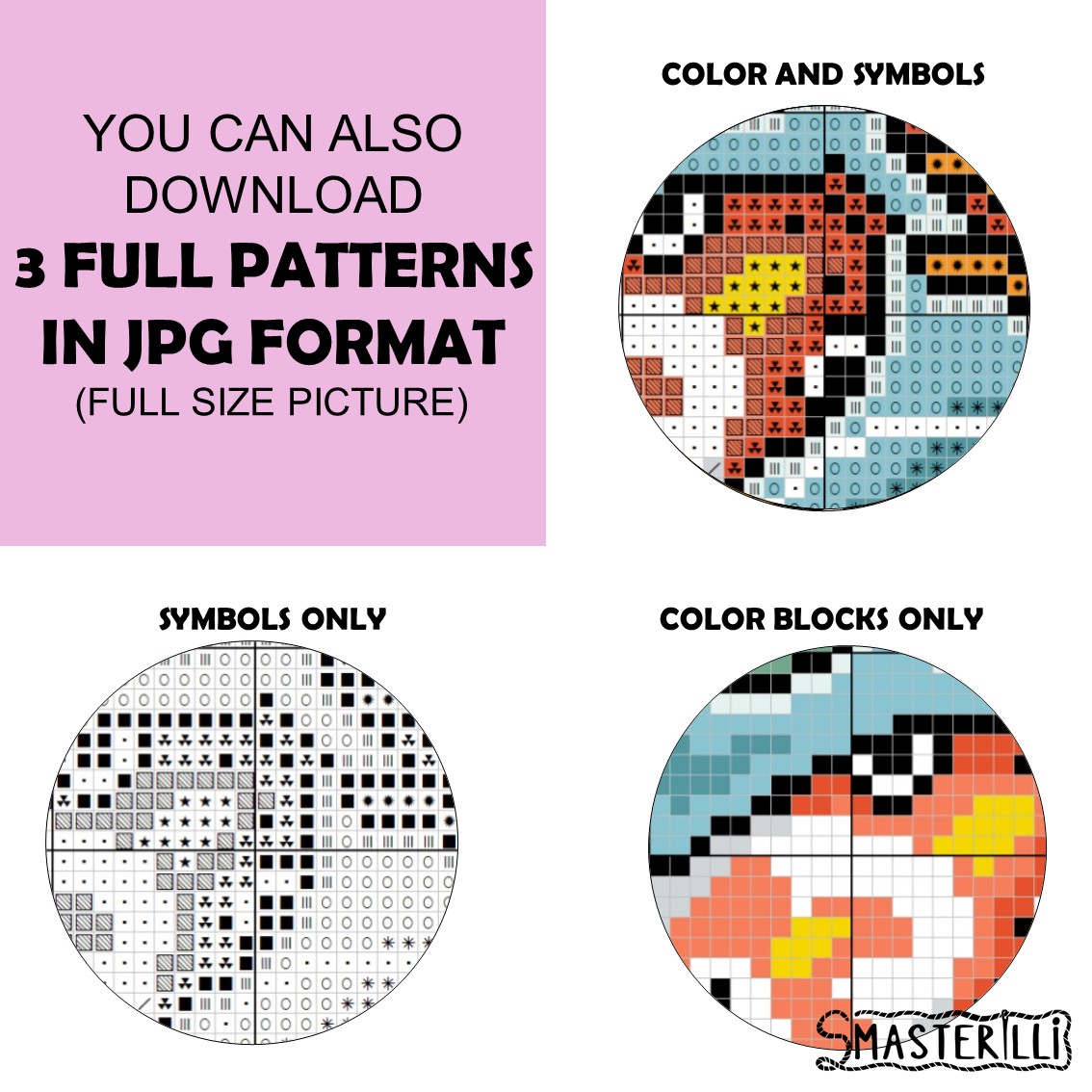 Finished Size:
Size for 14 count canvas: 125 x 125 crosses, 22.7 x 22.7 cm, 8.9 x 8.9 inches
Colors: 21 colors
Me and my Contacts:
My name is Ekaterina Byrkova. I am a designer of patterns for cross-stitch, and also create other things from plastic canvas, fabric and felt. You can find me here: @smasterilli (Pinterst, tumblr, Boosty) and instagram @smasterilli_patterns Also I have a website www.smasterilli.com
Copyright and other Information:
All rights reserved. All patterns and tutorials are intended for personal use only. It is prohibited to share, copy, resell, license and sublicense, use in advertising and use for other commercial purposes.
How to Buy This Pattern:
You can buy this pattern in Smasterilli stores on the Inspire Uplift and BuyMeaCofee website. Links to this product are placed near the picture.
Pin & share with friends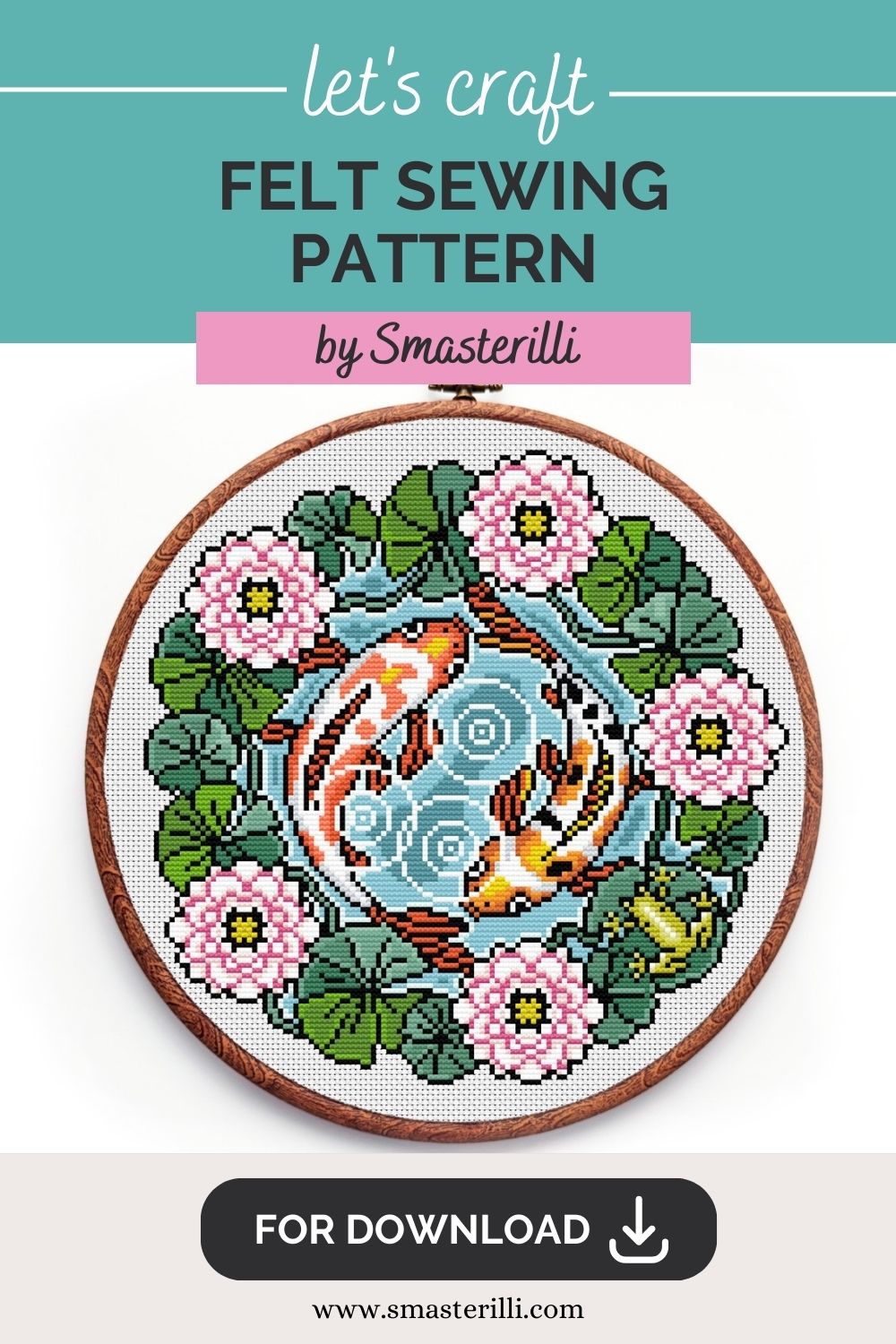 Additional information
| | |
| --- | --- |
| type-of-product | Digital product for download |
| kind-of-craft | Cross stitch patterns |
| theme | Animals |