Plastic canvas project
3D Ladybug Cross Stitch pattern PDF & tutorial, Plastic canvas Project for Valentine's Day gifts #0202
$6.00
Elevate your crafting with our Ladybug Cross Stitch Pattern designed for Plastic Canvas. This 3D Insect with Wings comes with a Tutorial Included and Digital Download by Smasterilli, making it an ideal choice for your next Plastic Canvas Project.
❗ Welcome to our catalog-style website! To purchase a pattern, simply click the buttons below to visit Smasterilli's stores on popular marketplaces. Choose your preferred payment method and enjoy instant pattern download!
Buy on BuyMeaCofee
Buy on Inspire Uplift
Description
Ladybug cross stitch pattern for plastic canvas PDF. Detailed tutorial for creation 3D insect with wings with photos and instructions. Realistic ladybug beetle in the shape of a heart. Cute craft made of plastic canvas for Valentine's Day. The beetle consists of several parts that are attached to each other. The wings rise and it creates a realistic effect. Digital cross stitch pattern for instant download. This adorable Ladybug Cross Stitch Pattern PDF is perfect for plastic canvas. Download now to give as a thoughtful gift for garden and plant lovers! The detailed instructions make it an enjoyable experience to create this beautiful and unique design. Get ready to stitch something special!
Files for downloading includes:
1 PDF file with cross stitch patterns. PDF contains 3 variations of charts: chart with color and symbol blocks, chart with symbols only, chart with color blocks only. It can be printed on A4 paper. PDF file contains useful information about colors, the number of stitches, and the number of skeins of thread in each color. Also PDF file contains detailed tutorial with photos and instructions and list with materials.
3 charts in JPG format in three variations: chart with color and symbol blocks, chart with symbols only, chart with color blocks only
Finished size:
Size of each side for 10 count plastic canvas
10 x 8 cm or 3,94 x 3,15 inches
Colors: 9 DMC palette colors
Copyright and other information:
All rights reserved. All patterns and tutorials are intended for personal use only. It is prohibited to share, copy, resell, license and sublicense, use in advertising and use for other commercial purposes.
How to buy this pattern
You can buy this pattern in Smasterilli stores on the Inspire Uplift and BuyMeaCofee website. Links to this product are placed near the picture.
Pin & share with friends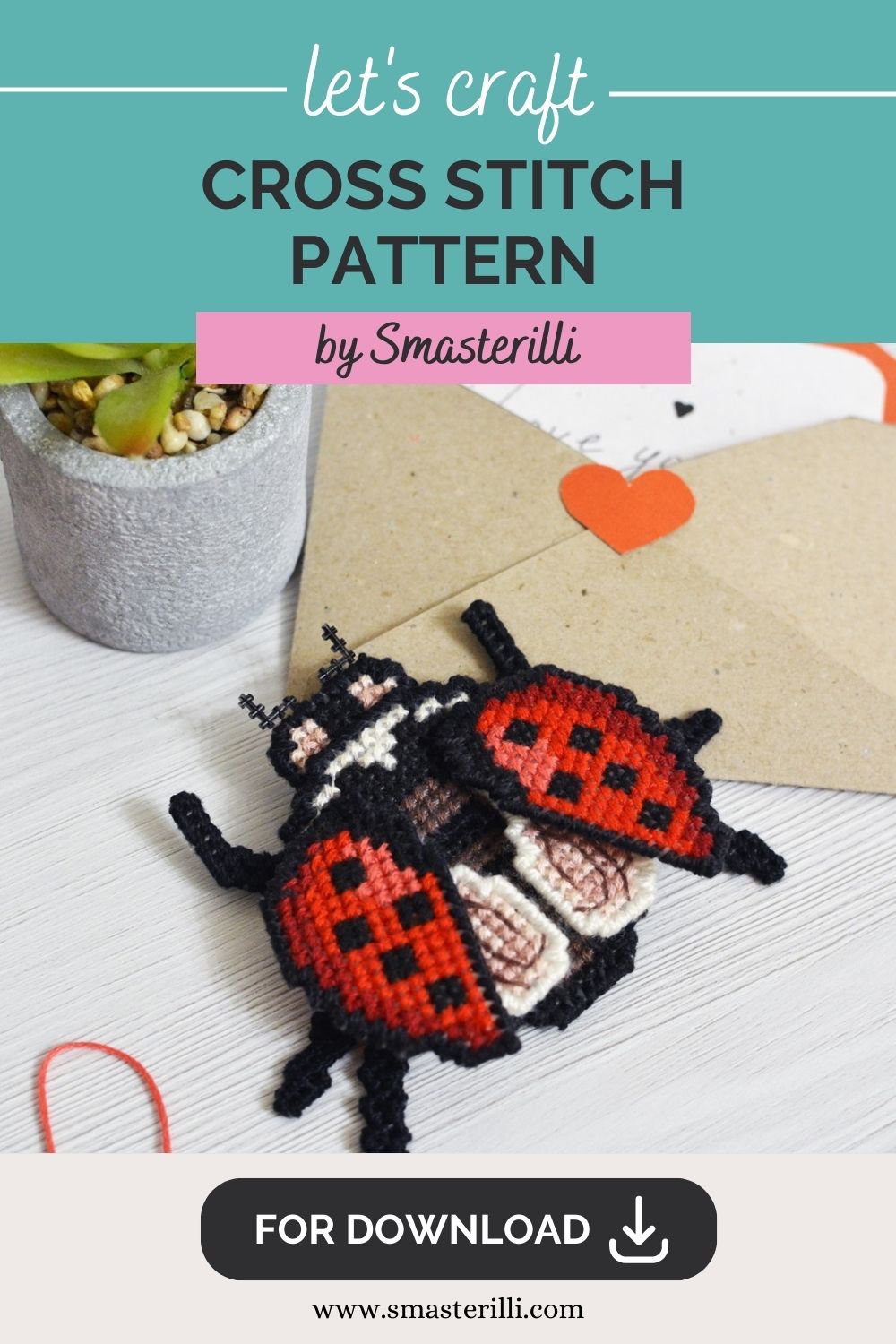 Additional information
| | |
| --- | --- |
| kind-of-craft | Cross stitch patterns |
| theme | Holidays & Home, Plastic canvas craft |