Hello! Christmas is coming soon. Handcrafters and stitchers are working diligently like Santa's elves on Christmas gifts. Some prefer large projects, while others prefer small and uncomplicated cross stitch ornaments. After all, you can make many of them to create a variety of gifts. In this post, I've compiled 10 small Christmas cross stitch ornaments by Smasterilli that are easy and quick to stitch. Additionally, I'll provide some ideas on where to place them, creating customized gifts.
Small town in the snow
This cross stitch ornament depicts a snow-covered town and Santa with Christmas reindeer. The pattern size is 71*99 stitches (5.07-7.04 inches), using 17 colors. This ornament is a great idea for a small picture that will look bright in a frame with a white mat. It's also perfect for fitting on a paper card, with one side for a holiday greeting and the other side for attaching the finished embroidery.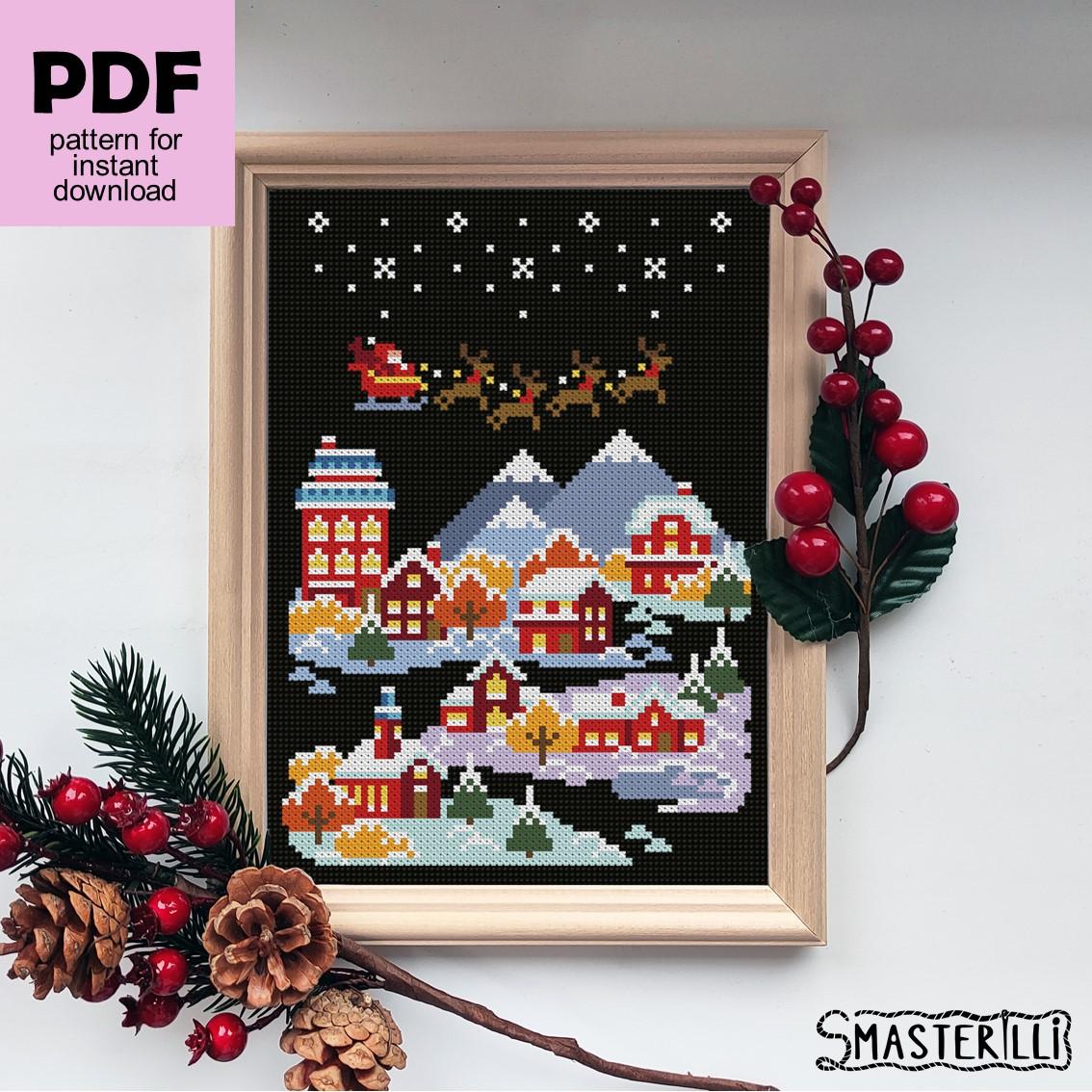 Christmas gift tags
What's a New Year's holiday without gifts? Today, a gift tag is also a gift. The size of each ornament is 1.57 x 2.68 inches, and it takes less than an hour to complete. Each light bulb has its unique and unusual design. The colors are originally chosen on black canvas, but you can choose a darker color and use these patterns on white or linen canvas. It will look great!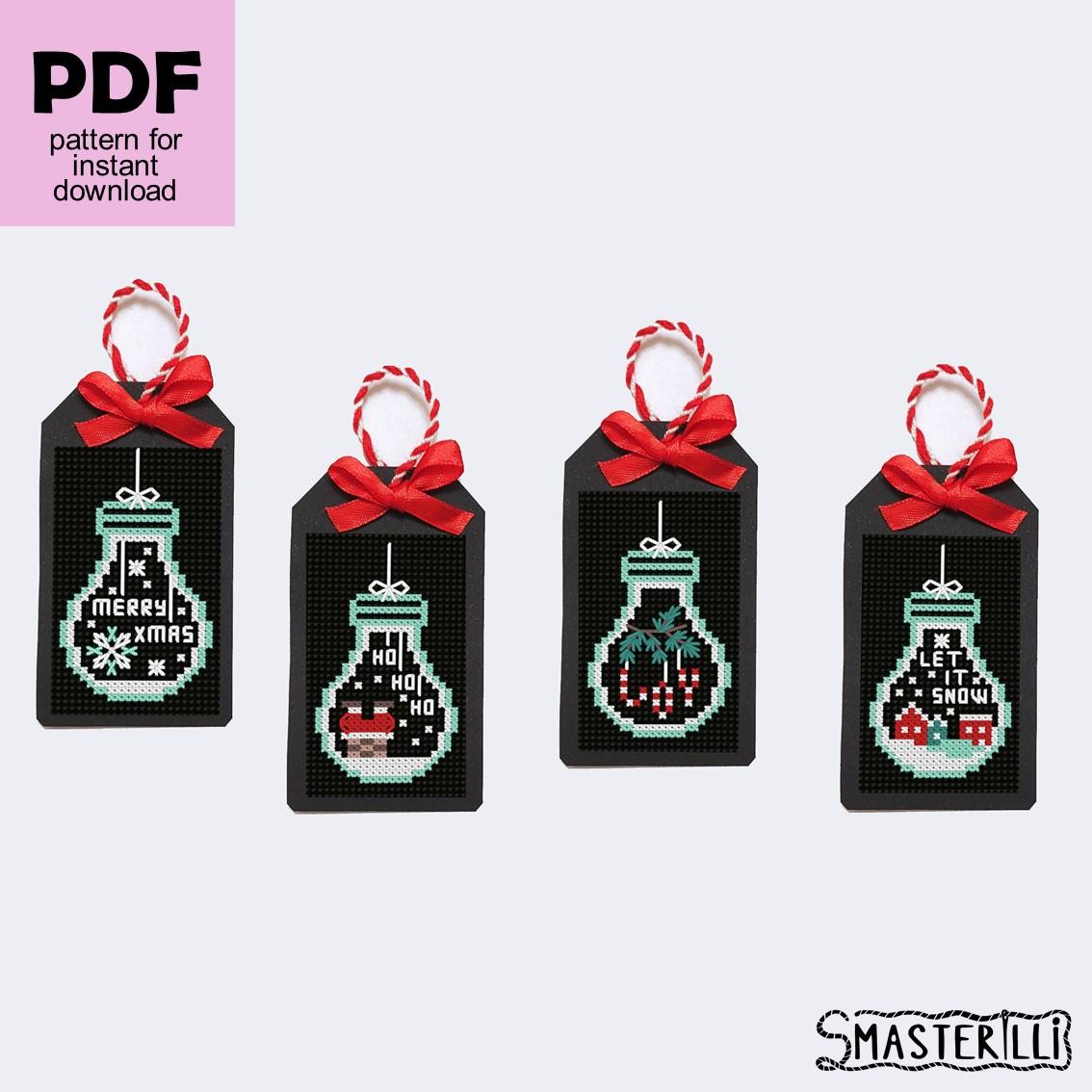 Green snowflake virus
This cross-stitch pattern is designed for plastic canvas. Unusual, isn't it? Plastic canvas is a luxurious material for creating Christmas decorations. The sheets are rigid and hold their shape perfectly. This simple ornament resembles both a snowflake, a virus, and the Grinch at the same time. On the back, you can read a caption that is relevant at all times.
Black kitty on a Christmas bauble
This cross-stitch pattern on plastic canvas depicts a cat tangled in garlands. A luxurious gift for pet owners for whom Christmas turns into an anti-holiday. This toy will look great on a Christmas tree.
Funny pooping dog
Another Christmas cross stitch pattern designed for plastic canvas – a dog in a Christmas sweater. A great symbol of the outgoing year and a luxurious gift for those who want to laugh at all the problems that befell them in the past year. Plastic canvas is an excellent material that allows making details movable. And here, the "addition" is attached to the dog with a metal ring. The year can be easily replaced with 2023 or 2024, or removed altogether if necessary.
Gingerbread man
Gingerbread cookies are symbols of holidays and Christmas. This simple cross-stitch pattern on plastic canvas with a gingerbread man is perfect for those who have never held this material in their hands. Extremely simple lines and colors, and a cute and unpretentious design. What else do you need for a great gift and, at the same time, an unusual memorable decoration for a Christmas tree?
Fish in sweaters
Christmas is a holiday for everyone, and fish are no exception. This ornament is as simple as possible to execute. It can be cross stitched as a separate picture to place in a frame, or you can cross stitch it on a cushion or clothing. If your relative or friend is passionate about fishing or keeps an aquarium, he will be simply happy to receive a T-shirt or cushion for Christmas, on which these fish are depicted.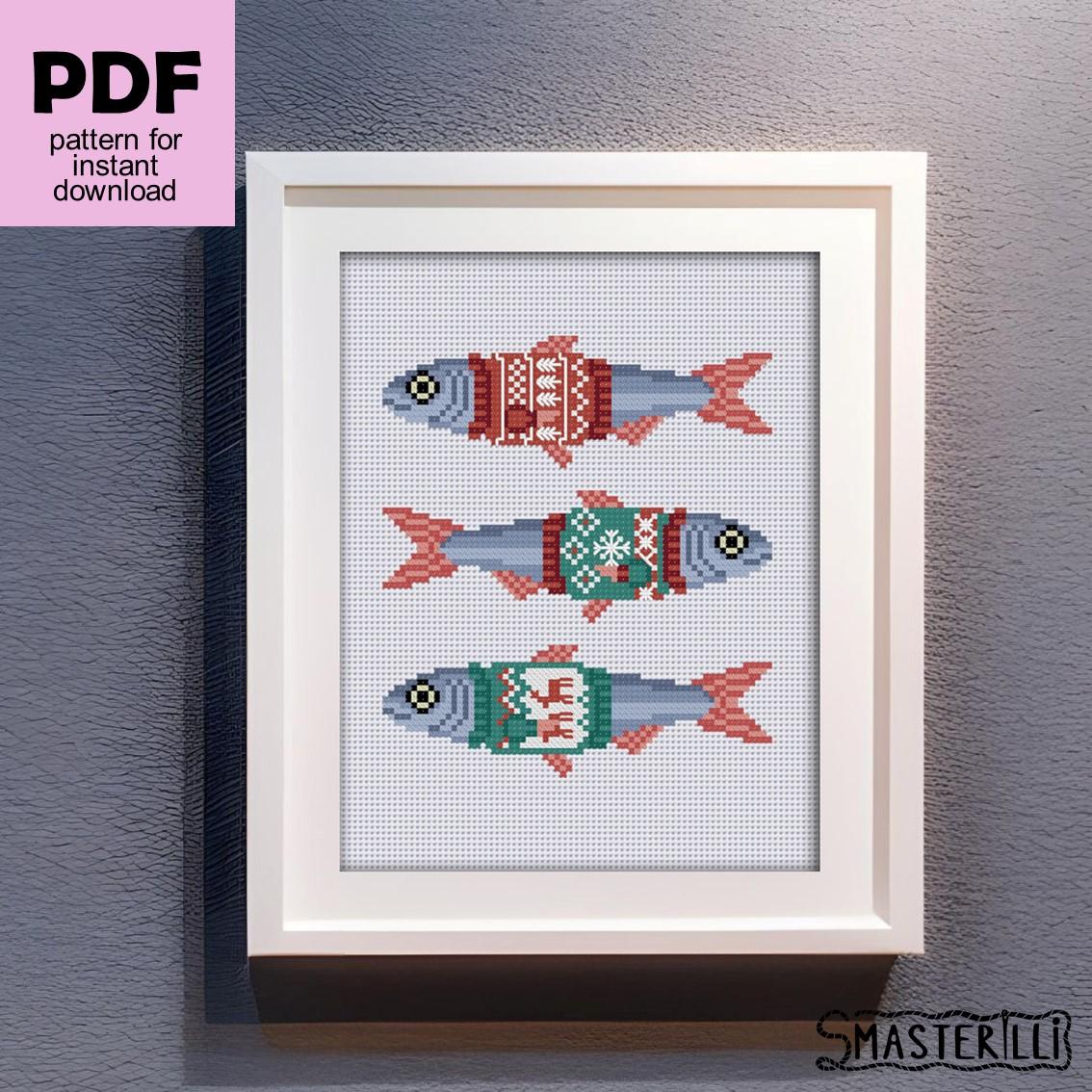 Long dachshund
Another Christmas pattern for pet owners. It's such a long dachshund that a whole Christmas greeting fit on it! It will be funny to look like Christmas decor in a frame or on a cushion. At the same time, it is small – only 6.06 x 9.57 inches.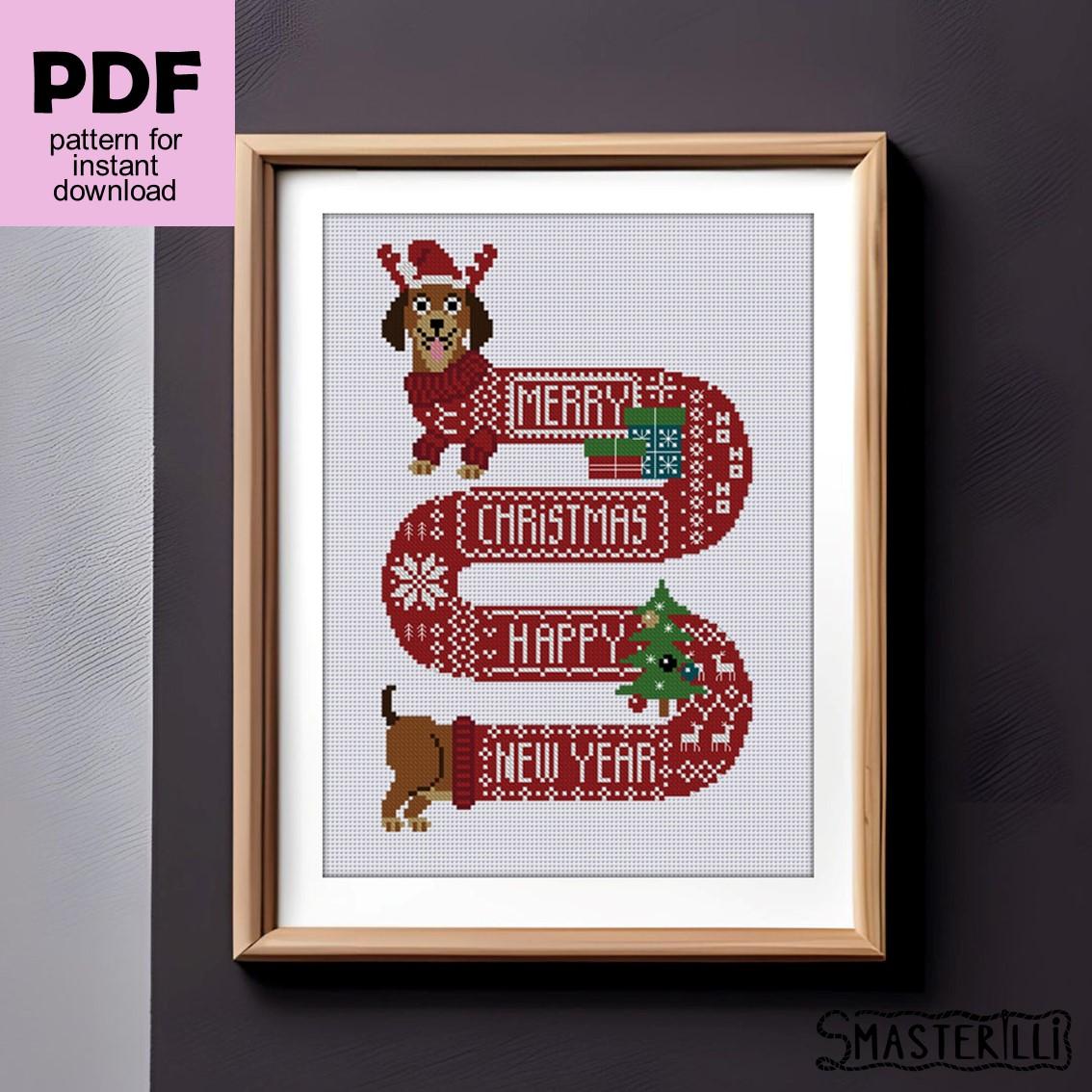 5 cross stitch ornaments with Christmas animals
A whole set of Christmas animals – five different ornaments that you can do anything with. They will look great on clothes or Christmas cards. Or maybe you just want to try cross-stitching for the first time? In this case, this is an excellent option. The size of each figurine on 14 canvas is only 2.2-2.7 inches. In addition, Christmas animals can be cross stitched on plastic canvas. With them, you can make Christmas decorations, refrigerator magnets, or brooches.

Cat in snowflakes
And another small cross stitch Christmas ornament. Its size is only 70 x 70 stitches, which, when using 14-count canvas, will be approximately 55 inches. This Christmas ornament with snowflakes and a cat silhouette is perfect for small round hoops. Just attach a blue bow, and the gorgeous Christmas pattern is ready. You can hang it on the Christmas tree, or you can put it in a small square frame. It will look just wonderful.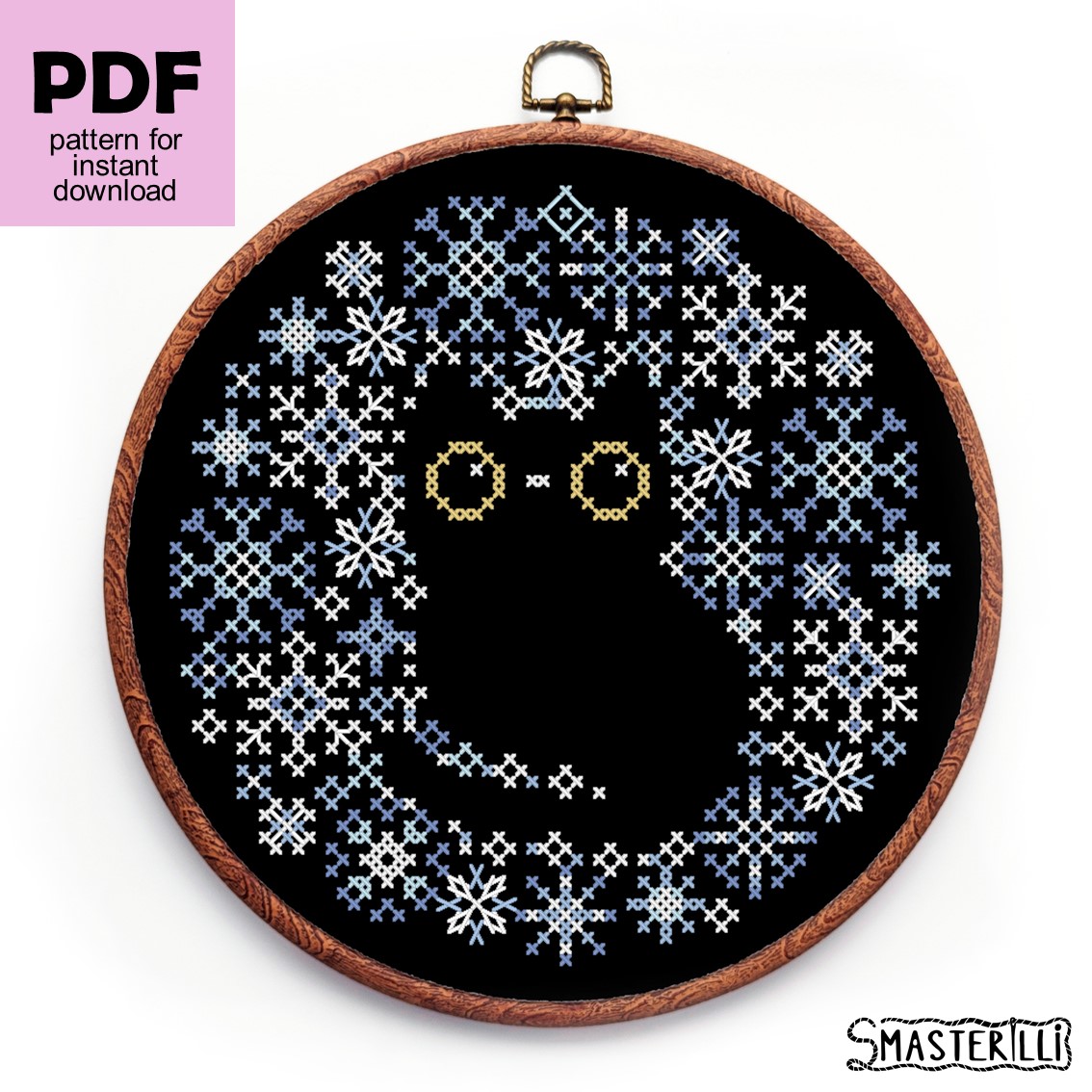 All presented Christmas patterns are available for purchase at Smasterilli stores on BuyMeaCofee and Inspire Uplift websites.
Pin & share with friends